You can fill a room with stylish furniture, but the place will look unfinished if you leave too many walls bare. An empty wall is full of potential, and decorating such a significant space is a task that can be delightful for some, and daunting for others. Here are some easy wall decorating ideas that add personality and liven any space.
Punch it up with paint
Painting a single wall with a bold color is the easiest way to add excitement and contrast to the room.  This design approach is a great way to accentuate a living space, plus it allows you to experiment with stronger colors that may be overwhelming when used on all available walls.
When picking a color, take your cue from decorative pieces around the room. The orange accent wall pictured below plays off the orange throw pillows on the sofa, and helps complete the look of the space.

If you prefer to keep things more subtle, choose a deeper shade of your existing wall color. This gentle contrast should be enough to break the blandness of a mono-colored room.
Add some art
Artwork can bring a lot of character and vibrance to a bare wall, and even to an entire room. Whether you prefer original paintings, framed prints, travel posters, or your printed Instagram photos, try to choose wall art décor pieces that are meaningful to you, and showcase your personal taste.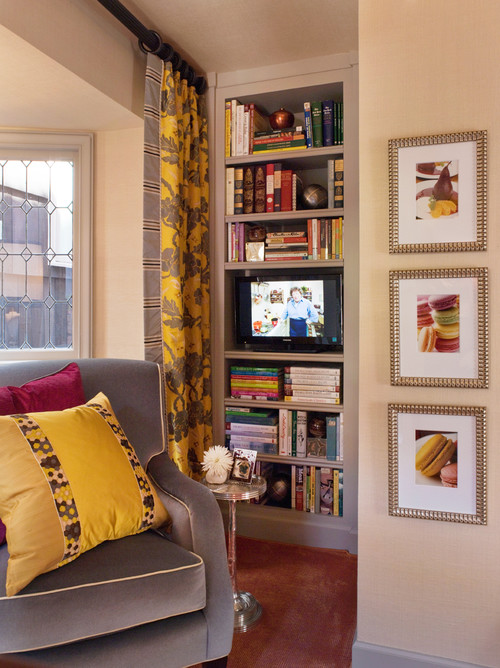 Remember to select artwork that is proportional to your wall's size and corresponds to its layout. If your wall is very high and narrow, a vertical arrangement of small, framed photos would be preferable to a large, landscape painting.
Spruce up with shelves
Decorative wall shelves are a simple and versatile addition that can benefit any space. Available in a wide variety of designs and colors, they add style and charm to even the plainest of walls. These red floating shelves add a beautiful pop of brightness to a bedroom with a neutral palette.

As a functional accessory, they're great for storing and organizing items that we use the most. Try adding a few shelves to display your favorite photos, your collection of hardbound Tolkien books, or the various knickknacks that your inner child simply cannot live without.
Decorate with decals
If painting or drilling holes in a wall is not an option, then consider using graphic wall decals. With so many sizes and creative designs to choose from, decals are a great way to express your personality while sprucing up an otherwise dull wall. And because of their adhesive backing, these wall decorations are easy to apply, remove, and reuse.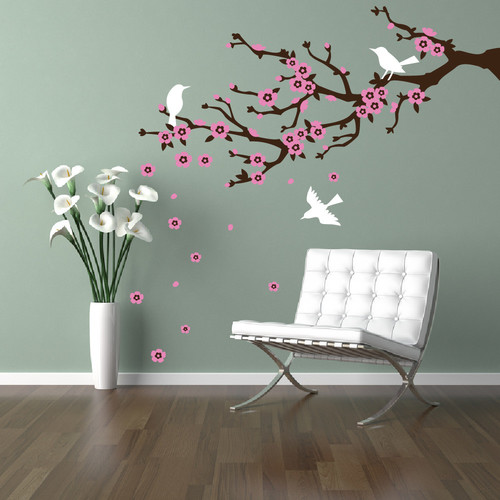 Check out our previous post and discover the many ways wall decals can add instant artistry to your home.
If you have a surface that's screaming for attention, try out any of these simple tips and bring some wow to any blank, boring wall.
by
You can follow any responses to this entry through the RSS 2.0 You can leave a response, or trackback.