Nothing changes the feel of a room more than lighting. With the right light fixture, you can transform any space from being mundane to something impressive and classy. Make the right design statement in your home with the perfect lighting piece that matches your style.
Traditional Lighting
A classic crystal chandelier is the crowning touch for a traditional space. Sparkling crystals with gold or silver accents make a room feel elegant without overdoing it. Here, a crystal chandelier brings even more grandeur and an Old World appeal to an already sophisticated room.
Antique hanging lanterns are another subtle sophisticated way to accentuate indoor and outdoor home décor. Reminiscent of a bygone era, a hanging lantern provides just the right rustic touch while emanating a romantic glow.
Transitional Lighting
Light fixtures with understated shapes and clean lines work wonders in interiors that blend classic and modern sensibilities. Radiating a glow of simplicity with its sleek appearance and soft, subtle curves, the light fixture in this bath helps achieve a clean, serene atmosphere.
Another way to add a soft touch to a sleek, modern home is to install a drum-shade ceiling light. This kind of fixture lets the eyes rest with its curves that break the pattern of lines and angles.
Modern
The addition of a modern lighting fixture can quickly change the character of a room. This pick-up sticks chandelier brings a playful personality to the dining area. Its unique construction helps define the space above the table without making the room look cramped.
This series of pendant balls adds a modern touch to any space as the pieces float like futuristic orbs. Varying heights and staggered ceiling mounting create interest without the risk of overpowering the space with too much fixtures.
Arts and Crafts
Tiffany-styled lamps are a great way to decorate a room for a sophisticated ambiance. With geometric motifs that call to mind elements of the natural world, these Arts and Crafts icons cast a cozy glow with their tinted shades. And because they come in a wide color spectrum, you can easily find one that matches your home style.
Craftsman Kitchen by Arlington Architects & Designers David Whitney
This vanity light embraces natural beauty and traditional craftsmanship with its warm-tone metal finish and utilitarian lines. With its simple, unadorned profile, you place emphasis on function as well as form.

Industrial
Bold enough to make a statement, yet subtle enough to blend in the background, industrial-styled light fixtures are enjoying increased popularity. One of the many things that make them trendy is that they fit well in just about any design style. In this contemporary kitchen, highly polished industrial-styled pendants create a cohesive theme as they echo the finish of the range hood.
Industrial-styled task lights stylishly illuminate study areas or reading nooks with their chic vintage flair. Their simple and classic lines make them a versatile statement piece.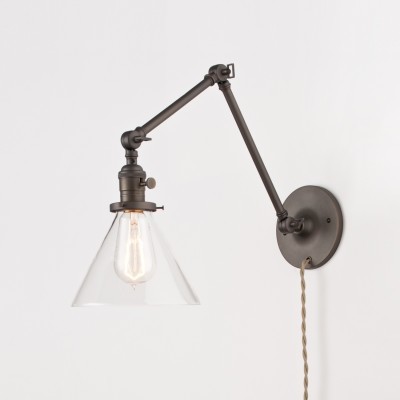 Light fixtures are the jewelry of a room. Be inspired by these gorgeous pieces that add a unique statement to your home.
by
You can follow any responses to this entry through the RSS 2.0 You can leave a response, or trackback.