Take further steps to achieving a healthier you by using these easy-to-find herbs
Do you know that today is "More Herbs, Less Salt Day?" In line with this day that celebrates natural flavoring to promote health benefits, Treetopia has listed down five easy-to-find herbs that are also easy to use. Check out our picks:
Cilantro
Cilantro is easy to find in local grocery stores and is fairly easy to grow too, if you live in a cool area. This herb is rich in Vitamin K, which strengthens the bones and helps stimulate blood clot. Cilantro can be used as a garnish or an ingredient, especially for pesto, salsa, and various Thai dishes. You can also add it to your salad and stir-fry, or use it in your smoothie when you're on a detox diet.
Spicy Sliced Beef and Cilantro photo by Augapfel via flickr. CC BY 2.0
Turmeric
Turmeric is a close relative of ginger that thrives in the tropical lands of South Asia and has a dark yellow to an almost-orange coloring inside. It is used to treat mild depression, some skin ailments, and liver disease. It also aids in reducing inflammation and swelling of joints (arthritis), among other things. It can be drank as tea or used in curry-like dishes such as this Turmeric Chicken and Broccoli Stir-Fry recipe shared by Dan from The Food in My Beard at Tablespoon.com. You can also use turmeric as a natural scalp treatment by mixing it with oil and applying it on your hair 15 minutes before you shampoo.
Turmeric Chicken photo by avlxyz via flickr. CC BY-SA 2.0
Mint
Mint is one of the most widely used herbs and could probably be one of the most loved. It has been used to flavor drinks, desserts, and non-edible products so you're sure that it's not only safe to ingest, but also easy to find. You already know that mint aids in fighting bad breath (toothpaste, anyone?) but did you know that it is also rich in Vitamin A, which is necessary for maintaining clear eyesight? Not only that, mint also aids in proper digestion and helps relieve headaches and some respiratory problems.
Basil
Like mint, basil is also easy to find and use. It is a key ingredient of pesto, has been used to flavor pasta sauces, and is mixed with juices and tea, at the very least. As an added benefit, basil boosts the immune system, is rich in antioxidants that keep the heart healthy, and is used by many to treat digestive problems.
Saffron
If you've been sleepless for whatever reason, saffron may help you get a better night's sleep. This incredible little flower is used to treat insomnia and other sleep disorders because it acts as a mild sedative. It also promotes good digestion and aids in maintaining healthy vision. Add saffron to your paella or other seafood dishes.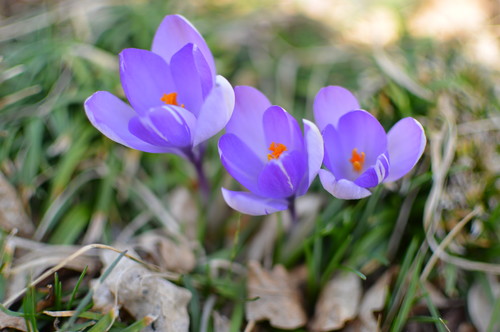 Get your fill of healthy, flavorful dishes and drinks packed with health benefits by using more herbs. You can keep them handy, too, by growing your own herb garden. If you don't have space, you can get some ideas from our Decorative Pocket Gardens post.
Share your herb-infused recipes with other readers by commenting below.
by