Jumpstart your way to healthy living by having delicious & filling vegetable meals
Are you on your way to fit and fab yet? Treetopia's two previous posts, Fabulously Slim & Trim and Soy Wonderful: Quick & Easy Tofu Recipes, shows two different but complementing ways to get in or back to the fitness wagon: exercise and food. Our Soy Wonderful entry focused on tofu, that wonderful soy product that has been used as meat substitute. Now, it's time to enjoy the greens in season with these quick and easy recipes of spring vegetables:
Soup, anyone?
A good way to start your meal after a nice workout is by having a perfectly balanced soup. Try this delectable recipe made with avocado and cucumber, which are both believed to create a cooling effect in the body. To make this Spicy Avocado-Cucumber Soup shared by Marcia Kiesel from foodandwine.com, you will need the following:
Two cucumbers
2 Hass avocados, coarsely chopped
2 teaspoons Thai green curry paste
2 teaspoons sugar
2 teaspoons finely grated lime zest
1 serrano chile, seeded and chopped
1 13-ounce can unsweetened coconut milk
3 tablespoons fresh lime juice
Salt
1/2 cup unsweetened coconut flakes, for garnish
10 cilantro sprigs, for garnish
Peel, seed, and chop the cucumbers and puree in a food processor until smooth, then add the avocados, curry paste, sugar, and lime zest. Add serrano chile depending on how spicy you want your soup.
How about brunch?
If you find some spinach, leeks, and tarragon in the market, try whipping up Spring Vegetable Frittata to fill you up. Kathy Hunt shares her family recipe for this delicious dish in her blog Kitchen Kat. Make sure you have these ingredients prepared:
2 tablespoons olive oil, divided
8 ounces porcini/cepes mushrooms, trimmed and sliced
1 large leek, whites and 1-inch greens chopped
2 cups firmly packed baby spinach, stems removed and roughly chopped
1/2 teaspoon salt
1/4 teaspoon ground white pepper
8 large eggs
1 tablespoon chopped fresh tarragon OR 1 teaspoon dried tarragon
1/3 cup grated Romano cheese
Preheat your oven broiler as you prepare the ingredients. Heat 1 tablespoon olive oil in a large non-stick skillet and sauté the mushrooms. When the mushrooms have softened, add the spinach, leeks, salt, and pepper and sauté until the vegetables have also softened then set aside.
Heat the remaining 1 tablespoon of olive oil in an oven-safe pan, making sure to coat the pan completely in oil. Whisk the eggs, tarragon, and cheese in a separate bowl and add the sautéed vegetables. Pour the mixture onto the pan until the egg has cooked and the bottom of the frittata has browned.
Place the pan under the broiler and broil until the mixture puffs up and turns golden brown. Serve immediately and eat heartily.
Veggies for dessert?
If you think that vegetables are all about diet and fitness or that you can't make a dessert out of them, you're mistaken. Just have a taste of this Rhubarb & Mango Crumble shared by Jenny Eatwell at Jenny Eatwell's Rhubarb & Ginger by preparing the following:
3-4 large sticks of rhubarb, cut into 1″ pieces
1 large mango, skinned and diced
2-3 tablespoons granulated sugar
2 tablespoons plain flour
3 tablespoons porridge oats
30-40g butter, cut into small dice.
Place the diced rhubarb and mango in the baking dish, sprinkle with sugar, and mix. Combine the crumble ingredients in a separate bowl. Add the butter into the flour and oats until the mixture resembles breadcrumbs then sprinkle it onto the fruit. Bake at around 350°F for 35-45 minutes or until the crumbs become toasty brown. This dessert is best served topped with cream.
Can I have drinks with that?
If you're in the mood for something exotic or traditional, tickle your taste buds with India's traditional yogurt drink with a healthy twist. Instead of the usual fruit, use carrots to make the drink healthier and your eyesight better. You will need the following ingredients:
1 cup fresh or store-bought carrot juice
12 ounces plain or vanilla yogurt
1 teaspoon fresh lime juice
Salt
1/4 teaspoon cardamom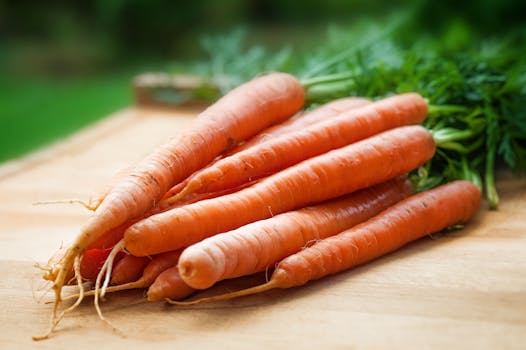 Put all the ingredients together in a blender, including a pinch of salt, and blend until smooth. If the mixture seems thick, add a few tablespoons of water and continue blending. Keep adding water until the mixture is a bit watered-down. Pour your healthy carrot lassi in a tall glass with ice.
Eating more vegetables doesn't mean you have to sacrifice a lot. Try out some of the recipes above and you may just end up enjoying vegetables more this season.
by