The bathroom is one of the smallest rooms in any house, but the right fixtures can make a big difference. Trick the eye into seeing more space than is actually present with these bathroom design solutions.
Optimize Corners with a Corner Shower Stall
Compact corner shower stalls make a great design solution where space is limited. Unlike built-in showers, a corner shower takes up a minimal amount of floor space, making it an ideal addition to a small bathroom.
Another space-saving solution is a shower enclosure that fits in a corner and features a sliding door, giving you maximum entry area while using less floor space.
Save Space with Sleek Sinks
This bowl-shaped vessel sink frees up counter space that would have been completely taken up by a conventional sink. With this design, you can place more items, such as toiletries and even a slender vase of flowers, on your bathroom counter.
With its washbowl and plumbing pipes attached to the wall, this wall-mounted sink opens up more floor space underneath. It gives you more room by utilizing an often wasted corner space. You can place on this extra floor space a hamper for your dirty clothes or a wired basket for your bathroom cleaning supplies.
A classic bathroom space-saver loved for its clean look and cleverly concealed plumbing, the pedestal sink provides the desired top surface area while taking minimum floor footprint. And because you can peer under the sink, you actually think the bathroom is bigger that it really is.
Expand the Bathroom with Mirrors
Mirrors give the illusion of a much bigger room. Reflect your bathroom space with a huge mirror and let it double everything in its view. Mirrors also brighten bathrooms efficiently by amplifying the illumination from an artificial or a natural light source.
Create More Room with Compact Toilet Options
A space-efficient wall-mounted toilet enhances the feeling of space. The hidden tank allows you to take the toilet closer to the wall, hugely opening up the floor area. Likewise, it leaves a better horizontal clearance that lets you install the toilet closer to other fixtures.
A hatbox utilizes technology that eliminates the need for an exterior tank, thereby conserving water and space. This hatbox toilet makes for a less obtrusive bathroom essential. Sleek and minimalist, it looks good in any modern home or executive suite.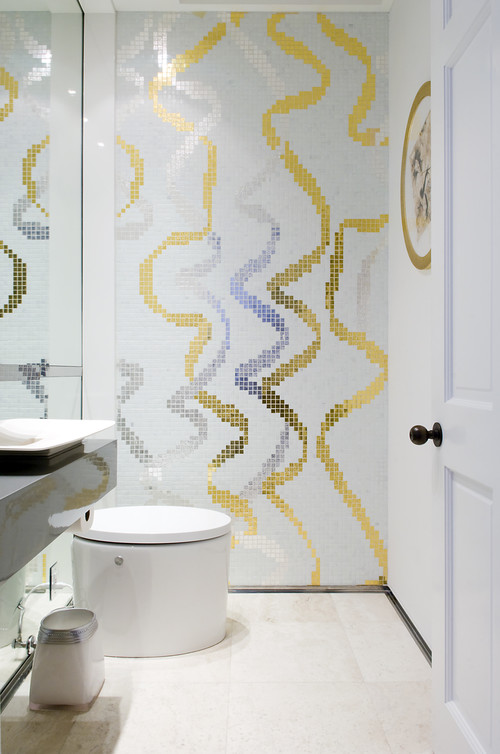 The toilet sink combo is another space and water saver. Its innovative design allows you to use fresh water for hand washing. After flowing into the cistern, the used water is then utilized to flush the toilet.
The right fixtures can transform a cramped and dark bathroom into one that feels bright and spacious. Make the most of your available bathroom space with these ideas!
The Treetopia blog hopes to inspire you with fabulous decorating and entertaining ideas that celebrate your personal sense of style. Liven up the look of your home with our exciting selection of decorating tips and tricks for every holiday and season.
Latest posts by Treetopia (see all)
by
You can follow any responses to this entry through the RSS 2.0 You can leave a response, or trackback.